Preparation work for the Gulf Cup 25 began .. Forming a committee to visit Iraq and inspect its facilities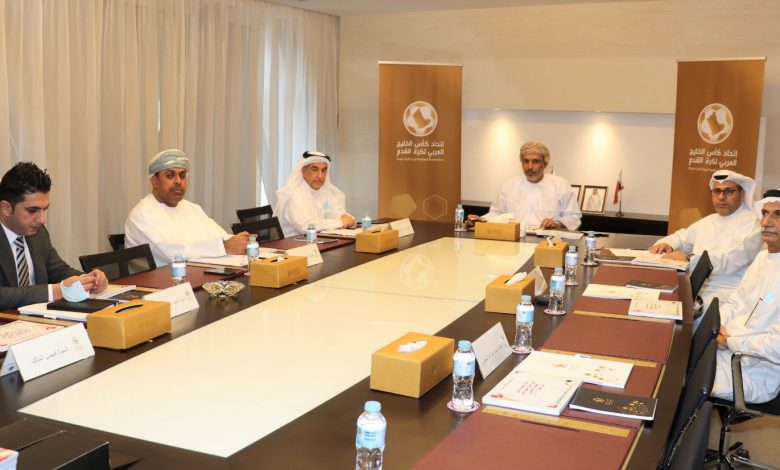 The Gulf 25 file evaluation committee studied the file submitted by Iraq to host the next championship, at a meeting held in Burj Al-Bida headed by Dr. Jassim bin Muhammad Al-Shukaily, Chairman of the Committee, and the presence of all members, either directly or through visual communication technology.
During the meeting, the committee reviewed the details of the file and the information it contained regarding sports facilities. Accordingly, it was decided to form an inspection committee emanating from the committee to evaluate the file headed by Mr. Fahd bin Abdullah Al-Raisi to conduct an inspection visit to Iraq in the coming days, in coordination between the Arab Gulf Cup Football Federation and the Iraqi Federation.
In the planned visit, the committee will be informed of Iraq's preparations to receive the major Gulf event, during which the stadiums nominated for the championship competitions will be visited; To ensure that they comply with the specifications and technical standards for hosting, as well as to review the infrastructure, logistical equipment, and hotels hosting the teams and delegations participating in the Gulf 25.
After completing the inspection trip, the committee will submit a report to the executive office of the Arab Gulf Cup Federation, including its observations and recommendations, so that its members can review them, study them, and ensure that there are no deficiencies in the level of availability of the requirements and standards required before taking the hosting decision.
On the same level, the Executive Office of the Arab Gulf Cup Federation will hold a meeting next Tuesday under the chairmanship of His Excellency Sheikh Hamad bin Khalifa bin Ahmed Al Thani, President of the Federation, to discuss the topics on its agenda, the most prominent of which are the committees' reports, the approval of the minutes of the previous meeting, and the new work.
It is noteworthy that the Gulf Cup 25 will start in December 2021 or the month after "January" 2022; The Executive Office will decide when to hold the tournament, which is of great importance to the peoples of the region. Because it was associated with the football renaissance and sports facilities, and it has graduated many stars whose stardom has been dug in the memory of history, and the Arabian Gulf Cup includes eight teams: Qatar, Oman, Kuwait, Saudi Arabia, Bahrain, UAE, Iraq and Yemen.