The Emirates Olympic team faces South Korea in the final of the international friendly tournament for Asian teams under 23 years old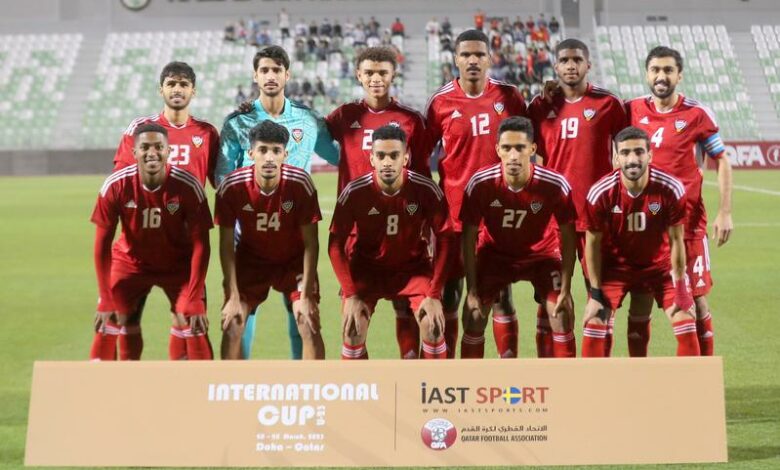 The Organizing Committee of the International Friendly Championship for Asian U-23 teams in Qatar revealed that the competition for the title was limited to the UAE and South Korean teams, after the first topped the standings after the conclusion of the first and second rounds with 6 points, while the South Korean team was behind by goal difference, and they will meet Tuesday at Abdullah Ben Khalifa stadium at exactly eight thirty in the evening.
After losing to South Korea with a clean goal in the second round, the Iraqi team retreated to play the match for the fifth and sixth places against its Omani counterpart, who defeated Kyrgyzstan in the same round with two clean goals, compensating for its opening defeat against South Korea by three clean goals. Hamad Grand Stadium will host the confrontation of the two teams on Tuesday at exactly eleven and half in the evening.
The Iraqi team, led by coach Radhi Shnaishel, had previously defeated Vietnam 3-0, but its defeat against the Korean team made it lose the opportunity to compete for the championship title.
The Kuwait national team (4 points) will also meet the Thailand national team, which has the same balance, on Tuesday at eleven o'clock in the evening, at Thani Bin Jassim Stadium, to determine the third and fourth places, and the Kyrgyz national team will play with Vietnam at the same stadium at eight thirty in the evening to compete for the ninth and tenth places.
By the end of the matches of the second round, the UAE national team leads the general standings with 6 points, with a difference of goals from South Korea, the runner-up, with the same balance, while Thailand came third with 4 points, Kuwait fourth with the same balance, then Iraq fifth with three points, Oman sixth with the same balance, Saudi Arabia seventh with two points, and the Qatar and Kyrgyzstan teams came  Vietnam ranks from eighth to tenth, respectively, without points.
The first round witnessed the Saudi team draw against its Thai counterpart with two goals each, and the South Korean team defeated its Omani counterpart by 3-0, and the Iraqi team achieved a wide victory over its Vietnamese counterpart by 3-0, and the Kuwaiti team defeated the Kyrgyz team with a clean goal.
In the second round of the tournament, Saudi Arabia and Kuwait tied 0-0, South Korea beat Iraq 1-0, Oman beat Kyrgyzstan 2-0, and the UAE beat Vietnam 4-0.
It is noteworthy that the tournament comes as part of the teams' preparations for the sixth edition of the AFC U-23 Championship, which qualifies for the 2024 Paris Olympics, which will be held in Doha early next year.