Hawar.. the star of Iraq who played in the European Champions League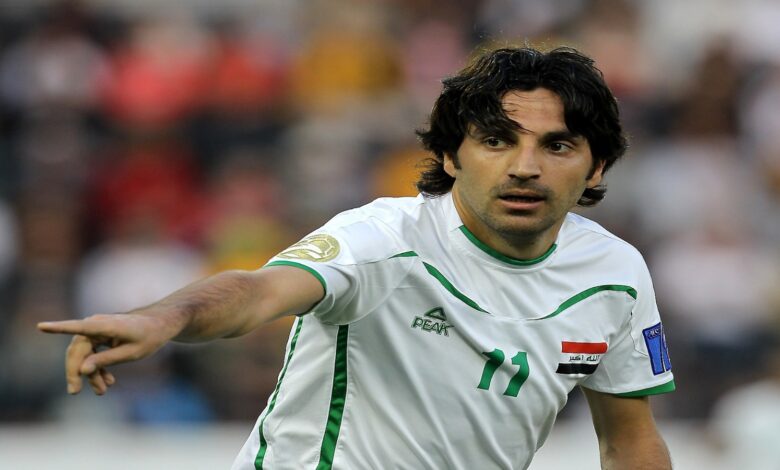 One of the most outstanding players of the Iraqi national team, which won the 2007 Asian Cup, he succeeded in attracting the attention of Europeans, so he played in the Cypriot league, and participated through it in the European Champions League. He played for the Iraqi national team for 12 years, with which he achieved important achievements.
He is the star Hawar Mulla Muhammad Taher Zebari, who was born in Mosul on the first of June 1981. He started his career with Mosul Club in 1998, at the age of 17, then moved to Al Quwa Al Jawiyah Club, which was coached by the Amo Baba who saw him and was impressed with his performance. He predicted a great future for him, assuring him that he would be one of the best players in Iraq, he played with Al-Quwa Al-Jawiya from 2000 to 2005, and won the Iraqi Premier League title.
Hawar was called to Al Shabab Club, which he represented in 2001 World Cup in Argentina, led by coach Adnan Hamad, who was credited with including him in the Iraqi national team. He participated in the 2002 World Cup qualifiers, and won his first international match against the Saudi national team during the qualifiers. He also represented the Olympic team that won Fourth place in the 2004 Athens Olympics.
Hawar was crowned the best player in the Gulf Championship in its 18th edition, after the impressive level he showed and managing to score two goals, despite Iraq not qualifying for its group that included Qatar, Bahrain and Saudi Arabia.
Hawar moved to the Lebanese Al-Ansar in the 2005/2006 season, then to Anorthosis Famagusta of Cyprus, and participated with it in the European Champions League, then contracted with the Emirati Al-Ain for six months, in February 2007, after which he joined Esteghlal Tehran, and Perouzi in the Iranian League, as well as Al-Khor Qatar. He also played for several other clubs (Iranian Persepolis, Iraqi Erbil, Iranian Zob Ahan Isfahan, and Iraqi Zakho).
Hawar is one of the stars of the Iraqi national team that won the 2007 Asian Cup, led by Brazilian coach Vieira, and scored a goal against Australia.