The leader of the Omani national team Mohammad Al-Moslami, retires from the international football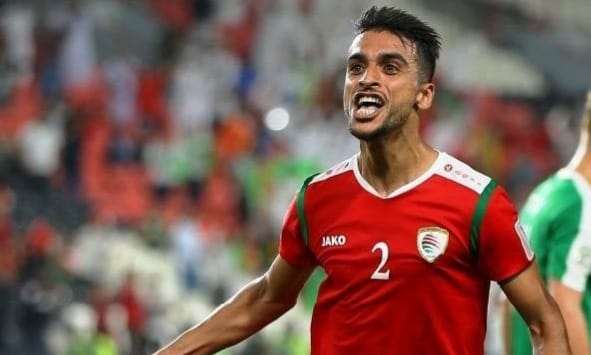 Mohammad Al-Moslimi, the star of the Omani national team and one of the main players of the national team, announced his retirement from the international game, after playing at the heart of the Omani defense, which lasted from 2011 until March 2023.
Born in April 1990, Muhammad bin Saleh bin Ali al-Moslami started his career with Sohar club and was promoted to the first team to move after a short period of time to Saham club from 2009 until 2011. Then to Al-Shabaab in the 2011/2012 season, then moved to Fanja from 2012 to 2018.
In 2010, Al-Moslami joined Oman's under-23 national team, and the following year, he joined the first team, with a central position in the heart of the defense, and became one of the basic elements, since the era of Boule Lejeune.
In 2018, he had a professional experience with Al-Jazeera Club that did not exceed 6 months, and in 2021, he joined Al-Gharafa Club, but due to frequent injuries, he did not complete the professional tour and he returned to the Sultanate, and played with the clubs of Al-Suwayq, Dhofar, and finally Al-Seeb.
Al-Moslimi played in the Gulf Championship in its 23rd version in Kuwait, which ended with Oman winning the title, and was one of the main players that contributed in winning the Gulf Cup for the second time in the history of Oman.
He also shone brilliantly in the Asian Cup 2019 and led Oman to qualify for the second round for the first time in its history where Al- Moslami scored a historical goal against Turkmenistan in the last round of the group stage, when the score was 2/1, but they needed to win by two goals in order to qualify.
At the local level, Al-Moslimi won the title of His Majesty the Sultan's Cup and the Championship in several occasions, with Dhofar, Fanja, Al-Suwayq, and and Al Seeb, who won the Cup, the Championship, the Super Cup and the Asian Union Cup.
At the level of personal achievements, Al-Moslimi was selected as the best Omani player twice, and Al-Moslimi continues his journey with Al-Seeb Club, who is currently competing with in the qualifiers for the King Salman Cup for Arab Clubs.