With the participation of 4 Gulf teams, the start of the Asian Beach Soccer Cup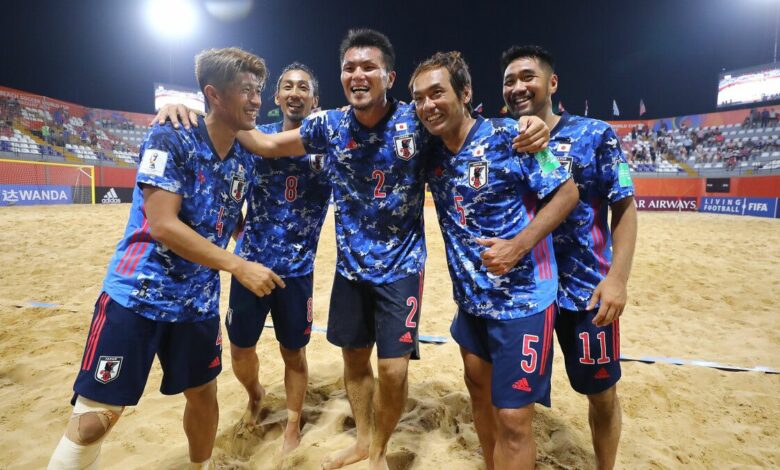 Next Thursday, March 16, the race for continental glory will begin, as 16 teams compete for the 2023 AFC Beach Soccer Championship in Thailand.
The tournament will return under the new name, in the tenth edition, which will also qualify for the 2023 Beach Soccer World Cup in the UAE, which will be held next November.
Thailand hosted the last edition of the tournament in 2019, where all eyes will be directed again to the city of Pattaya to determine the champion of the Asian continent after the final match that will be held on March 26.
The defending champion, Japan, aspires to win the fourth title in the history of the tournament, during its tenth participation in the finals, a number equal to Iran and China.
The tournament matches will begin on Thursday with the Iranian national team, which won the tournament title twice in 2013 and 2017, against Malaysia in Group Two, at 3:30 pm local time in Group Two.
And in the second match in the same group, Thursday at 6:30, the UAE national team, which won the title twice in 2007 and 2008, and who won the runner-up in the last two editions, will meet with Uzbekistan.
Also on Thursday, two matches will be held in in the first Group, where Bahrain will meet Afghanistan at 5:00 pm, followed by the host Thailand's meeting with Saudi Arabia at 8:00 pm.
On the second day of the tournament, the Lebanese national team will meet China at 3:30 pm in the third Group, while Japan, the defending champion, will play against Indonesia at 6:30 pm in the same group.
Also in the fourth Group, on Friday, Palestine will meet Kuwait at 5:00 pm, then Oman with Kyrgyzstan at 8:00 pm.
With the UAE national team obtaining a direct qualification card for the Beach Soccer World Cup, the continent of Asia has three additional seats in the World Cup, which will be reserved for the teams that ranked in the first three places, and in the event that the UAE national team obtains one of these centers, the fourth-placed player also qualifies for the World Cup.