For the first time, Saudi Arabia will host the 2027 Asian Cup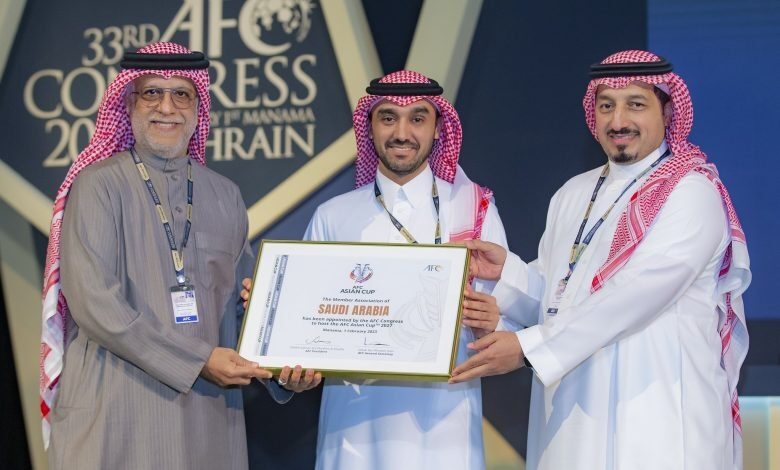 The Asian Football Confederation approved the selection of the Saudi Federation to host the 2027 AFC Asian Cup, during the 33rd General Assembly meeting, which was held on Wednesday in the Bahraini capital, Manama.  Saudi Arabia, whose national team is among the best teams in the history of the tournament, after winning the continental title three times in 1984, 1988 and 1996.
His Excellency Sheikh Salman bin Ibrahim Al Khalifa, President of the Asian Football Confederation, said during his speech at the General Assembly meeting: We extend our congratulations to the Saudi Football Association for its selection to host the 2027 AFC Asian Cup. This will be the first time that the tournament will be held in the Kingdom of Saudi Arabia, and we look forward to working closely with the Saudi Federation and the Saudi government to organize a tournament that will remain in the memory of our fans and players in 2027.
While His Highness Prince Abdulaziz bin Turki Al-Faisal, Saudi Minister of Sports, Chairman of the Saudi Olympic and Paralympic Committee, who presided over the presentation of the Saudi file during the General Assembly meeting, said: We are honored to have been chosen to host the 2027 AFC Asian Cup, and this is a historic and exciting moment for football in Saudi Arabia. We believe that the best days for Asian football are yet to come, and we consider this tournament as an opportunity to confirm the greatness of this game, and our experience in hosting major sports and entertainment events confirms our ability to organize, and to provide a warm welcome to fans coming from all parts of the continent of Asia and all over the world, this will be the most remarkable copy in the history of the Asian Cup.