Gulf 25.. Iraq snatches the title and dominates the titles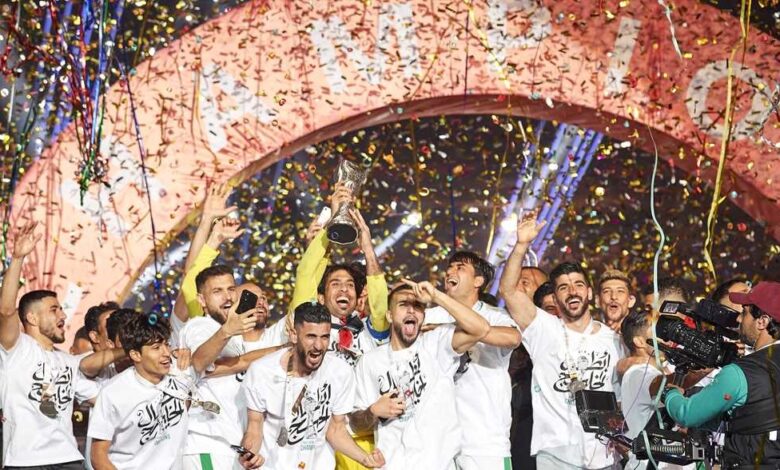 After hosting Baghdad for the first time in 1979, Iraq returned to hosting the Gulf Cup in its twenty-fifth edition, which was held from 6 to 19 January 2023, and hosted by the Basra International Stadium and the Olympic Port in Basra, with the participation of the eight teams.
Qatar national team participated with second-row players because the tournament followed the World Cup and there was no time for the first team to prepare, and most of the participating players had also participated in the World Cup in Qatar 2022.
The draw took place on October 25, 2022, at the Grand Millennium Hotel in Basra, and the teams were divided into two groups. The first included Iraq (the host country), Oman, Yemen, and Saudi Arabia. Their confrontations were hosted by the Basra International Stadium , which can accommodate 65 thousand spectators, and qualified from them Iraq teams first and Oman runner-up, with 7 points each and a goal difference for Iraq.
While the second group included: Bahrain (the defending champion), the Emirates, Qatar, and Kuwait, from which Bahrain qualified first with 7 points and Qatar second with 4 points, and the Olympic Port Stadium hosted its confrontations, which can accommodate 30,000 spectators.
The opening match brought together the teams of Iraq and Oman, and the meeting was preceded by the opening ceremony, which was attended by the President of the International Football Association and the Iraqi Prime Minister, Muhammad Al-Sudani, and the President of the Qatari Federation, Hamad bin Khalifa Al Thani, and the Bahraini Federation, Sheikh Ali bin Khalifa, and the Palestinian Federation, Jibril Rajoub, along with sports and political figures.
In the semi-finals, Iraq defeated Qatar 2/1, and Oman defeated Bahrain 1/0, to meet the teams of Group A and the opening match in the final of the tournament, which was held at the Basra International Stadium on January 19, 2023, and it was a marathon match that extended for two additional halves, and ended with a victory Iraq scored three goals for two, to crown Iraq with the title for the fourth time in the history of Iraq's participation.
The tournament witnessed the scoring of 39 goals over the course of 15 matches, and Ayman Hussein and Ibrahim Baish, Iraqi players, won the top scorer title with 3 goals each, and the best player Ibrahim Baish, while the title of best goalkeeper went to Omani Ibrahim al-Mukhaini.