Iraqi League: Al-Quwa Al-Jawiya is flying at the top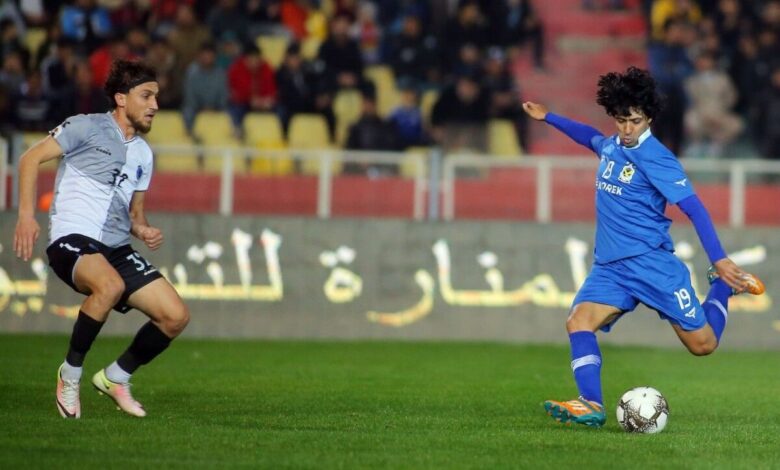 Al-Quwa Al-Jawiya team maintained the top of the general standings of the Iraqi Football League after defeating Al-Talaba 1-0 in the framework of the thirteenth round of the competition, which witnessed many fluctuations in the results of other matches.
Christ Mugalo scored the only winning goal for Al-Quwa Al-Jawiya in the (24th) minute, to lead his team to the top.  On the other hand, Al-Zawraa team maintained its second place despite a draw with Al-Kahraba, who remained in third place 0-0.
Zakho turned its delay in front of Al-Diwaniyah with a goal scored by Ali Karim (4 from a penalty kick), to a five goals victory scored by the Libyan Muhammad Omar (42 and 88), Sattar Yassin (63) and Khaled Radi (68, 90 + 4), and Dohuk beat Najaf with a goal by Zachary Yang (  42).
The draw was attended in 7 out of the 10 confrontations held, as Al-Naft tied with Al-Sinaa 0-0, and with the same result, the Al-Qasim match with Al-Hedoud and Al-Wasat Al-Wasat with Al-Karkh ended in a draw for Naft Maysan with Al-Kahraba with a goal for each of them. Benjamin Akor scored for the first in the minute (5),  And for the second, Reda Fadel (68).
Erbil also tied with a goal scored by Amjad Radi (11), with Naft Al-Basra, who scored for Ali Khalil (69), and the last confrontations of the round ended in a positive draw with two goals for each team between Newroz and Al-Shorta, scored for the first by Claudio Maradona (12 and 77), and for the second Alaa Abdel-Zahra (32).  ) and Ahmed Farhan (72).
Ranking of the leading teams:
1- Al-Quwa Al-Jawiya: 28 points from 13 matches
2- Al-Zawraa: 26
3- Electricity: 25
4- Students: 24
5- Najaf: 24