Including six Gulf clubs.. The list of qualifiers for the round of 16 in the AFC Champions League for the Western Region has been completed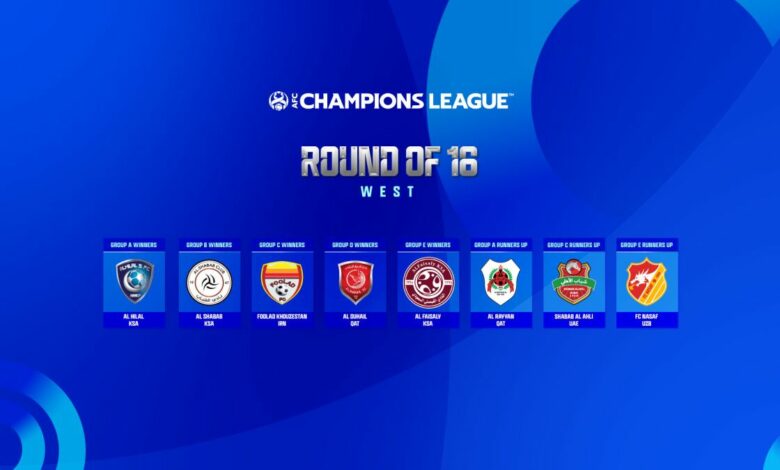 The list of qualifiers for the round of 16 in the West Zone in the 2022 AFC Champions League was completed, with the conclusion of the group stage matches yesterday, Wednesday.
Uzbekistan's Nasaf club was the last to qualify for the playoffs, after drawing with Jordan's Al Wehdat 2-2, to take second place in Group E, behind Saudi Arabia's Al-Faisaly, who led by the difference in direct confrontations.
The Saudi Hilal succeeded in leading the first group with 13 points, as the team continued to provide distinguished performances, to confirm its position on the continental level, after it was crowned with the title in 2019 and 2021.
In the second group, the Saudi Al Shabab Club was at the top of the table, which collected 16 points from five victories and a draw, scoring 18 goals against only one goal.
The Iranian club Foolad Khuzestan, who collected 12 points from three wins and three draws, took the lead in Group C.
In Group D, Al Duhail of Qatar topped the standings with 15 points, losing in the first match against Saudi Al Taawun, before achieving five consecutive victories. Saudi Al-Faisaly Club topped Group E with 9 points.
As for the clubs that succeeded in obtaining the three cards assigned to the best runners-up, they were Qatar's Al Rayyan (Group I), Shabab Al Ahli Dubai (Group III), and Nasaf of Uzbekistan (Group Five).
In the round of 16 confrontations, Al Hilal will meet with Al-Ahly Youth in Dubai, Al-Shabab with Nasaf, Al-Duhail with Al-Rayyan, and Al-Faisaly with Foolad Khuzestan.
The playoffs for the West Asian region will be held from February 3 to 10, 2023, with the final round of home and away matches on February 19 and 26, 2023.
On the other hand, the group stage matches will continue in the Sharq region, which concludes next Sunday.
The matches of the 16th round of the Eastern Region will be held on August 18 and 19, the quarter-finals on August 22, and the semi-finals on August 25.
Source.. Asian Football Confederation