Qatar's Al Rayyan snatches a valuable victory that revives hopes of qualifying for the AFC Champions League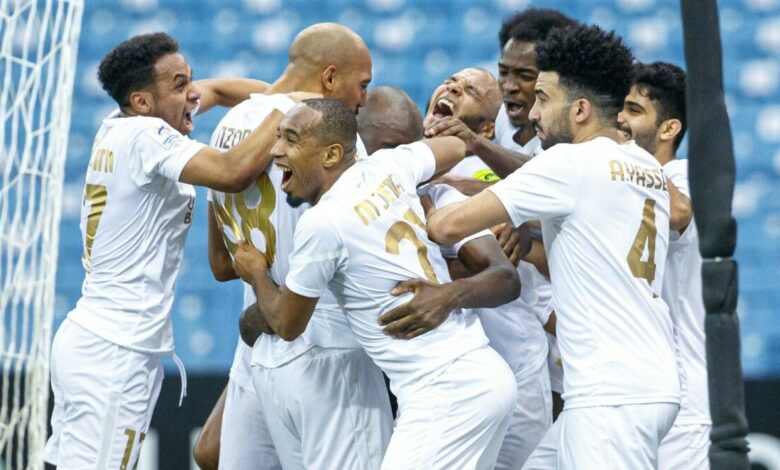 Qatar's Al Rayyan club succeeded in achieving a tough victory against Tajikistan's Istiklal, 1-0, on Saturday, at King Fahd International Stadium in Riyadh, as part of the fifth round of Group A competitions in the 2022 AFC Champions League.
A goalless draw dominated the match until the 90th minute, when Al Rayyan SC snatched the precious winning goal by Johan Poli through a direct free kick.
Al Hilal leads the group standings with 12 points from four matches, compared to 10 points from five matches for Al Rayyan, and 4 for Sharjah, while Al Istiklal's balance remains devoid of points. Al Hilal qualified for the round of 16.
Al Hilal of Saudi Arabia managed to come out with an exciting tie against Sharjah, UAE, with a score of 2-2. Othman Kamara (5) and Majed Rashid (45 + 1) scored the goals of Sharjah, while Mutaib Al-Mafraj (78) and Salem Al Dosari (90 + 6 from a penalty kick) scored for Al Hilal.
Uzbekistan's Nasaf club revived its hopes in the competition after beating Qatar's Al Sadd 3-1. Akmal Mozgovoi (63 and 77) and Hussain Nurchayev (74) scored Nasaf's goals, while Rodrigo Tabata (90+1) scored Al Sadd's only goal.
Saudi Al-Faisaly club maintained the lead after its 1-1 draw with Al-Wehdat of Jordan. Al-Faisaly leads the group standings with 9 points from five matches, compared to 8 points for Nasaf, 5 for Al-Wehdat, and 4 for Al-Sadd.
The first-placed team in each group, along with the best three second-placed clubs in the Western groups, qualifies for the Round of 16 for the West Asian Zone.