AFC Website: Younis Mahmoud is a top scorer with talent and a natural leader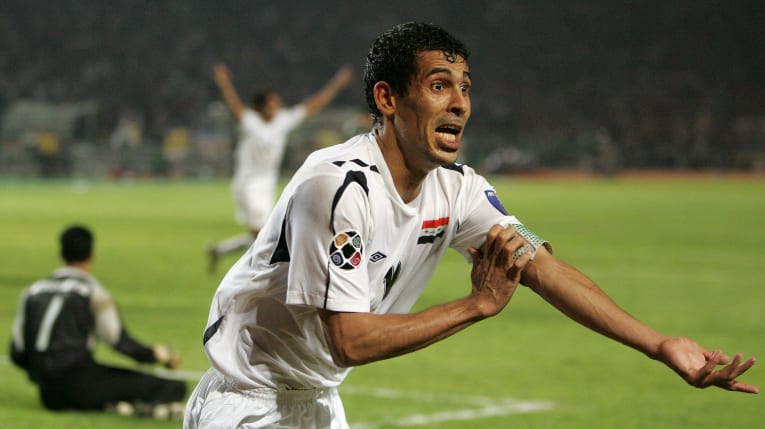 The AFC website reviewed the career of former Iraqi national team star Younis Mahmoud and stood as well with his most prominent positions in the world of football with the Iraqi national team and the clubs he represented.
The report began by listing the most important achievements of the Ripper in the 2007 AFC Asian Cup, when the Lions of Mesopotamia won the title well and deservedly. Younis Mahmoud was one of the most well-known makers of that achievement stuck in the minds of all fans of the Iraq national team.
Younis Mahmoud opened his goals in the first match against Thailand to return in the quarter-final, where he led his team to victory over Vietnam with two goals, to go with Iraq to the semi-final round. During this game he overcame the South Korean team with penalties, before scoring a header in the final and putting his country on the podium and positioned himself as the scorer of the tournament, equal to four goals, with Saudi Yasser Al-Qahtani and Japanese Takahara.
Younis Mahmoud was born in February 1983 and began his career with Debs Club in 1997 before moving to Kirkuk in 1999. He studied in 2001 and had a long series of professional experiences with the Emirati unit, Al-Khor, Al-Gharrafa, Al-Arabi, Al-Wakrah, Al-Sadd in Qatar, and Al-Ahly in Saudi Arabia. He concluded his career with Al-Talaba in the year 2015.
At the level of national teams, Younis Mahmoud was among the constellation of the stars of the Olympic team who made great football performances in the Athens 2004 Olympics in which the team ranked fourth in a historic achievement.
In 2016, Younis Mahmoud, who had retired, was ranked third in the list of historical scorers for the Iraqi team with 57 goals scored in 148 matches. He has several individual and collective titles, most notably the Iraqi League title once with Al-Talaba, the Emir of Qatar Cup once with Al-Khor, and the Qatari League more than once with Al-Gharafa, in addition to winning the title of top scorer in the Qatari championships in more than one season.