Ahmed Radi, the symbol of Iraqi football … the last farewell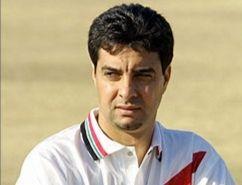 Iraqi and Gulf sports community were distressed by the news of the death of Iraqi football icon Ahmed Radi, after his health deteriorated due to Corona Virus (Covid 19).
Ahmed Radi is one of Iraqi football legends. He participated with Iraq in 121 international matches as the third most participating player with the Lions of Mesopotamia, and the second scorer after Hussein Saeed with 62 goals in the period from 1982 to 1997.
The late Ahmed Radi also contributed in achieving the first historic qualification for the Iraq national team to the World Cup Mexico 1986 after his great performance in the qualifying rounds.
Radi has a great record in the Gulf Cup championships, where his decisive goals contributed to Iraq winning the seventh and ninth Gulf Cup titles. He also won the ninth tournament's top scorer award with four goals equal to Emirati Zuhair Bakhit.
On the local level, Radi, who previously represented Al-Rashid and Al-Zawraa clubs, was awarded the Iraqi league's top scorer twice, and the title of best local player for six consecutive seasons from 1987 to 1993. In addition to that, he also carried an external professional experience with Qatari Al-Wakra from 1993 to 1996.