An exciting history of the finals in the Gulf Cup tournaments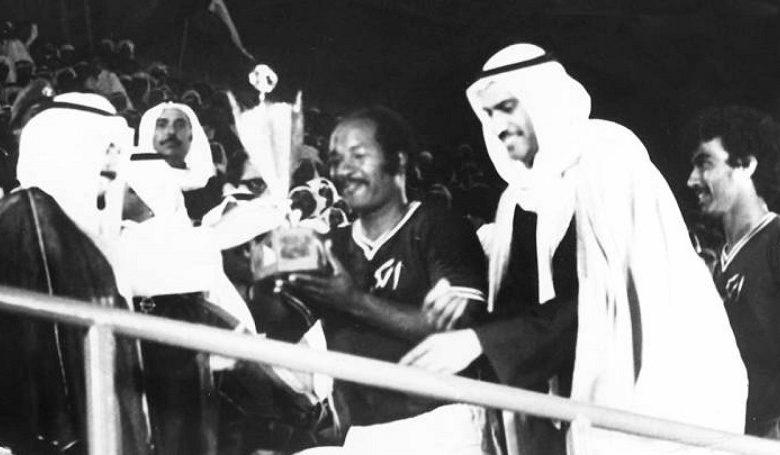 The Gulf Cup is in its fifth decade, and it is proven day after day that it was born in order to survive. The Gulf Street will be alive on Sunday, on the expected final event between Saudi Arabia and Bahrain, to close the twenty-fourth version of its files.
The final of the 24th edition will be the final number nine in the history of the championship, compared to 15 championships played in the group system of one role.
The first final in the Gulf Championships was in the 1974 edition, when six teams participated for the first time. They were divided into two groups. The first and second qualified for the Golden Box, and Kuwait and Saudi Arabia reached the final. Al-Azraq achieved its third title by Hamad Buhamad and Fathi Kamil.
The championship continued with the one-group system despite the participation of Iraq. The championship witnessed two separate encounters after two equal teams with the same points balance. The beginning was with the Qatar Championship in 1976. Kuwait overtook Iraq in the 4-2 interval after a hat-trick from Abdulaziz Al-Anbari and the goal of the terrifying Jasim Yaqoub. The second interval was in Muscat 1984 between Iraq and Qatar, where the two teams equaled the number of points, which ended in a 1-1 draw, before Al-Rafidain Lions decided it with a penalty shootout 4-3.
The tournament returned to its 17th edition of the two groups system. Qatar achieved its second title with a penalty shootout on the Omani Red, while the 18th title also saw the first title at the expense of Oman to return to the last and embraced history by achieving the first title in the 19th edition at the expense of Saudi Arabia in the final penalty shootout.
In the Yemen edition 20, Kuwait outperformed Saudi Arabia by the extra time. The UAE returned and achieved its second title in Gulf 21 in Manama. Riyadh smiled to Al Annabi in the 22nd copy of the end of 2014 at the expense of Saudi Arabia before the Omani team achieved its second title in the previous version at the expense of the UAE on penalties.
Saudi Arabia reached the final match in the history of the championship four times in 1974, 2009, 2010 and 2014 without achieving the title through it. Its titles came in the 1994, 2002 and 2003 versions of the one group system. However, for Bahrain it was the first arrival to the final match after they achieved second place several times in the previous system.