Competitions Committee and Media Committee held two preparatory meetings for Gulf 24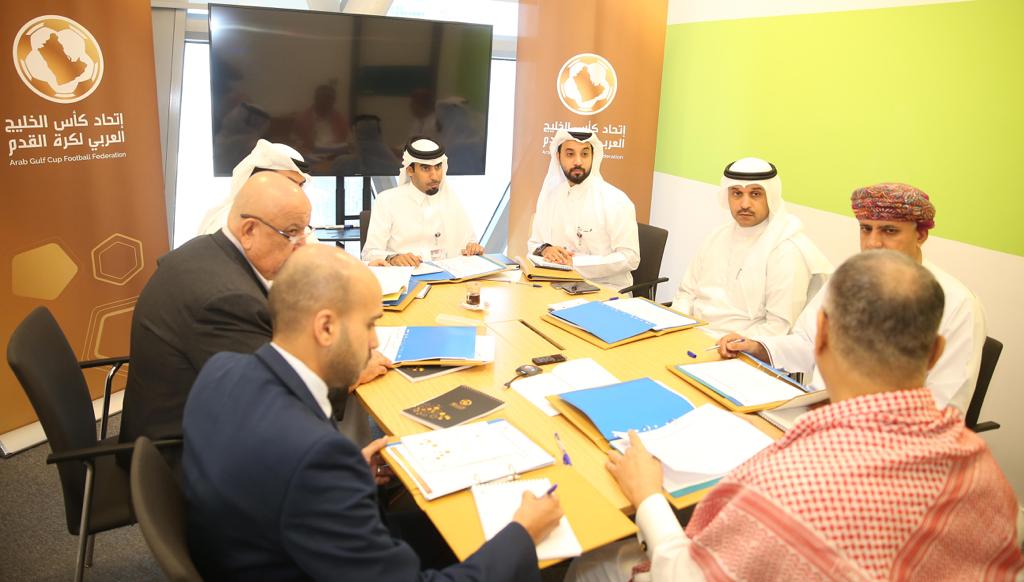 The competitions committee of the Arab Gulf Cup Federation held a preparatory meeting for Gulf 24 on Monday, chaired by Dr. Humaid Al-Shaibani and attended by members of the committee; Ahmed Al-Harami from Qatar, Hamid Bin Sulaiman Al-Jabri from Oman, Shehab Ahmed Jabara from Iraq and Ali Hussein Al-Mutairi from Kuwait.
During the meeting, it was emphasized to communicate with the local organizing committee Gulf 24 at the Qatari Football Federation, which is chaired by Mr. Saud Al Mohannadi, Qatari Vice President.
It was confirmed that the tournament will be held with the participation of five national teams, and the selection of the mechanism of the Committee during the course of the tournament, and the adoption of Khalifa International Stadium for the establishment of the tournament matches, and the university's stadiums for the training of the teams, with the selection of a reserve stadium besides the Khalifa International Stadium, to be determined later.
During the meeting, the mechanism of the draw for the tournament was decided, which will be held in a single role system.
Information Committee Meeting
A meeting was held on Tuesday chaired by Ali Al-Silat, chairman of the media committee, in the presence of Hussein Qassem from Iraq, Salem Saadoun from Kuwait, Dr. Ahmed Al-Farsi from Oman, while Yemen's Muath Al-Khamisi, was absent due difficulties in arrival to Doha.
The meeting was also attended by Jassem Al-Rumaihi, Secretary General of the Arabian Gulf Cup Federation, in addition to Fatima Al-Nuaimi, Khalid Al-Nema and Jassem Al-Rumaihi, members of the media committee of the local organizing committee.
The meeting started with a speech by Ali Al-Salat, who welcomed the attendees and wished them success in providing distinguished media coverage in the 24th Gulf Championship.
During the meeting, they reviewed the candidature of the unions' membership of the media committee and reviewed the specialties and roles of the committee during the tournament.
The media team of the local committee also reviewed their action plan during the draw tomorrow and the tournament.