Iraqi League harvest: Al-Quwa Al-Jawiya achieves its fourth victory and tops the standings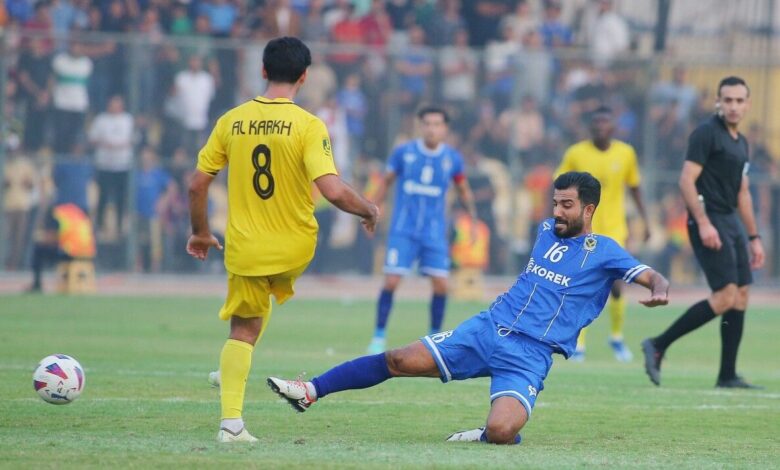 Al Quwa Al Jawiya team achieved a valuable victory over its counterpart, Al-Karkh, 1-0, in the framework of the fourth round competitions, to maintain its lead in the overall standings with a full score of 12 points.
Al-Jawiya Forces' only goal was scored by Ayman Hussein in the 29th minute. Al-Shorta comes in second place with 9 points after defeating Erbil with two goals scored by Muhannad Kazem (54) and Mahmoud Al-Mawas (59), versus a single goal scored by Zidane Abdul-Jabbar (87).
Al-Zawraa won against Al Hodod with a goal by Christopher John (49), Karbala over Najaf with goals from Sami Hayen (54) and Nour Khamas (87), and Amanat Baghdad won over Naft Maysan with a goal from Karar Berri (19).
Naft and Kahraba tied with two goals each, scored for the first by Okeke Afolabi (8 from a penalty kick) and Samson Gbadebo (19), and for the second by Mahmoud Khalil (14 and 70).
The 0-0 goalless draw was the highlight of four matches: the Newroz match with Al-Minaa, Naft Al-Wasat with Dohuk, Al-Qasim with Basra, and Zakho with Al-Talaba.
Ranking of the top teams
1- Al-Quwa Al-Jawiya: 12 points from 4 matches
2- Al Shorta: 9
3- Dohuk: 8
4- Al-Zawra: 7
5- Al Hodod: 7
6- Al-Qasim: 7