Saeed Salboukh.. The brilliant striker who turned into the flying goalkeeper of the Emirati White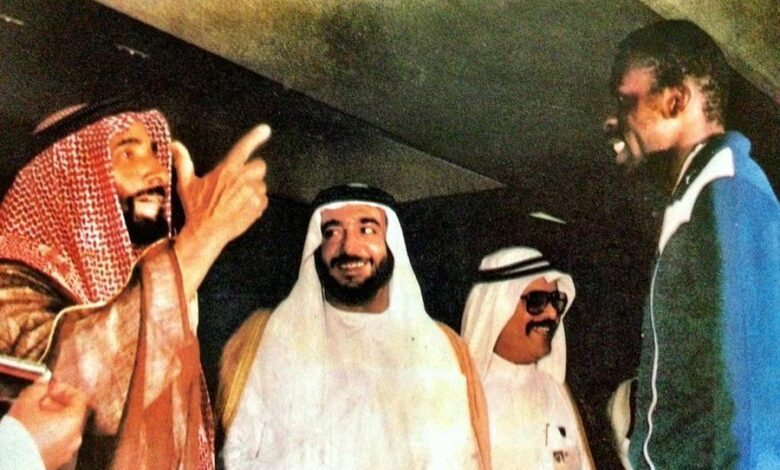 One of the most prominent Emirati goalkeepers, who started playing football as a striker, to be the school sports supervisor, the difference maker in his life and the compass that directed him to goalkeeping. He also excelled in athletics (long jump) and table tennis.
He is the star Saeed Salboukh, who started his career with the ball in 1970, at Omar Bin Al-Khattab School. Salboukh formed with his companions in his residential neighborhood a football team and called it Dubai, and they took the place of the youth club as their playground, and with him he started as an attacker, and by chance his life changed with the ball, when the sport teacher, Mahfouz Al-Najjar, asked him to be a goalkeeper to complete the deficiency of one of the two teams during the division, and he noticed that he was distinguished in dealing with balls left and right, so he approached him, saying: You have to be a goalkeeper, and you can become excellent with a few exercises. He was convinced of his words and worked since then on developing his goal keeping skills.
In 1974, Dubai and Al Arabi clubs were merged into Al Shabab club, with which Salboukh starred and won the President's Cup with it in the 1980/1981 season, after defeating Al Ain 3/1 at Madinat Zayed Stadium.
Salboukh represented the national teams in all their age stages, and was chosen to join the 1975 first team list, which will go through a preparatory camp in Yugoslavia in preparation for participating in the Palestine Cup in Tunisia, under the leadership of Tatic, and the giant Ibrahim Reda was the main goalkeeper.
In 1976 Salboukh participated in the fourth Gulf Cup that was held in the Qatari capital, and played the UAE-Oman match, which ended in a 1/1 draw, and participated in the Netherlands camp in preparation for the fifth Gulf tournament in Baghdad under the leadership of Don Rabfi. However, his studies prevented this participation, but Heshmat Mohajerani returned and included him in the Spain camp list in preparation for the 9th Asian Nations Finals in Kuwait 1980, until the injury came to end his journey with football in 1983.
Titles
Best goalkeeper in the Ramadan tournament at Sharjah Club 1974
Best goalkeeper and won the Al-Ittihad newspaper award, and from the Football Association 1979
Best goalkeeper in the Sixth Gulf Cup 1982