His Excellency, President of the Arabian Gulf Cup Federation: New ideas are being studied for the development of the federation's championships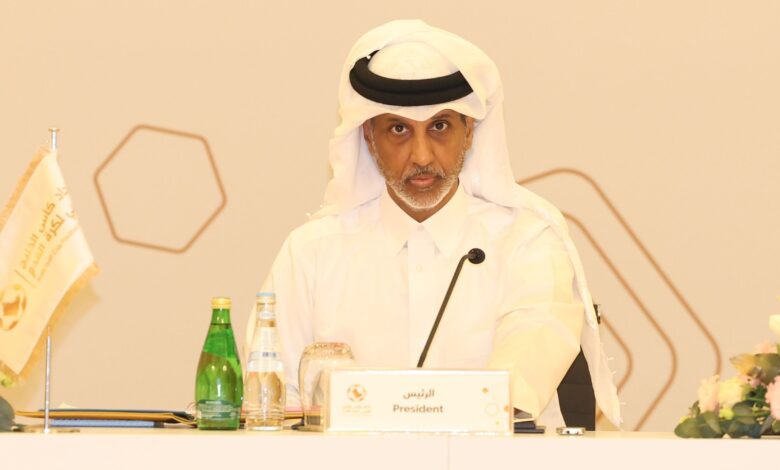 His Excellency Sheikh Hamad bin Khalifa bin Ahmed Thani, President of the Arab Gulf Cup Football Federation, said: "The next stage will witness a great development after the statutes of the Arab Gulf Cup Federation are amended, and in light of the amendments, various tournaments will be created under the umbrella of the federation."
His Excellency added during the press conference held in the presence of the Secretary-General of the Federation, Jassim Al-Rumaihi, following the meeting of the General Assembly and his election for a four-year session: "There are many ideas that are being studied at the level of club championships and the age groups that we pay great attention to."
His Excellency pointed out, "Today, the General Assembly witnessed a quick review of what was accomplished in the previous period and touched on some of the crises that the Arab Gulf Cup Federation went through, as well as work on developing competitions during the coming period." He emphasized: A committee has been formed headed by the Secretary-General of the Federation, Mr. Jassim Al-Rumaihi, for the next stage to work on developing the regulations for the tournament, as the previous period there were some voices calling for a return to the previous system of the tournament, and several proposals were put forward during previous meetings, including an item to add Teams for the championship from outside the Gulf Federation, and this decision will be taken and decided upon with the approval of the members of the General Assembly, and if this will develop the championship, then this decision will be supported and will be studied and considered.
His Excellency the President of the Arab Gulf Cup Federation pointed that the federation has not yet organized tournaments at the level of age groups, and a new calendar and special regulations will be set in order to organize these tournaments and define their vision.
His Excellency confirmed that changing the date of the "Gulf 26" tournament from December 2023 to December 2024 came with the aim of providing an opportunity for all participating teams to be in the required readiness, as it will be after the end of the 2023 Asian Cup competitions by about a year.